Traveling with an RV is not all rainbows and roses…sometimes it can be damned hard to find a place to camp, for free. RV parks are easy to find and easy to find reviews for them; free campsites that are RV-accessible are less so. Apps like freecampsites.net, Campendium and All Stays help A LOT but aren't always accurate or helpful with reviews. These campsites are my favorites either due to accessibility, views, proximity to attractions or some other reason. They are all boondocking sites and do not provide services. These are not in any particular order:
Vernita Bridge, Hanford Reach/ Columbia River, Washington
This site beside the Columbia River offers great views, fishing access, great cell service and has easy access for pretty much any size or type of RV. The grey gravel road boat access is the most popular area but there are other dirt roads that lead to plenty of level parking sites. There is a LOT of room along the river front but the river does rise and fall a lot during the spring and summer. Bugs didn't seem to be a problem in March or April. Great boondocking location for autumn, winter and spring but probably not for summer as there is little shade and it gets hot. Dogs loved it for playing in the water. A full-service rest area with very clean bathrooms, a dump station and fresh water is available across the bridge. While I did not stay here in my RV I'm listing it here as is very suitable if I had.
The Pads, Death Valley National Park, Nevada
This was one of my favorite sites due to the proximity to Death Valley National Park and the ease of finding a good RV space. Some of the concrete slabs are usable but most are not, however flat dirt spots are easy to find and there is plenty of space. The views are stunning and the location is quiet. There is no cell service however which made longer afternoons after spending time in the park a little too long and more beer was consumed than maybe should have been. Ease of access to the park is my prime reason for listing this location.
BLM Land, La Verkin/ Zion National Park, Utah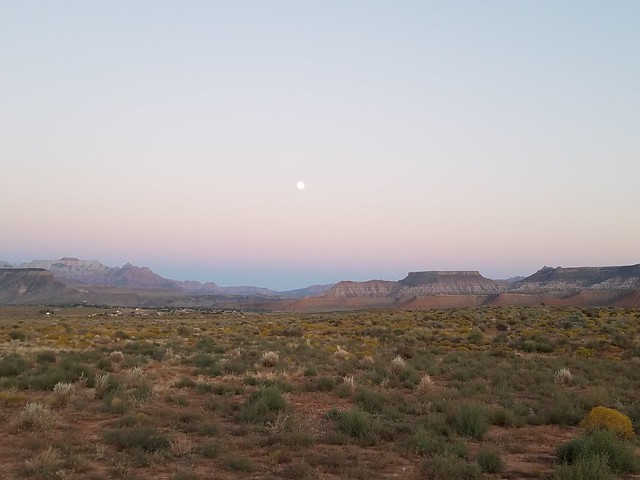 I utilized this location for a week as I visited parts of Zion National Park and St George. The views are stunning and the proximity to Zion is fabulous, although a slight drive. Cell phone service was great and I was able to get a lot of work done on blog entries and applying for jobs. It was fairly popular with others in all kinds of set-ups from tents to vans and Class Cs to travel trailers and box trucks. The road in is a little rough for Class As and wouldn't recommend it. There is a lot of space to camp in the area but most seem to congregate in the "circle" for some reason.
Morgan Lake, La Grande, Oregon
With all but two campsites along the edge of Morgan Lake this location is gorgeous and great for fishing. It is only open during late spring and through to the end of October. The cell service was great for the most part and people were extremely friendly. It is popular with the day-use crowd for fishing but has about 12 camp sites, two of which are away from the lake and all have fire rings. This place has a 3 day camping limit but it is free and it seems very well taken care of with trash cans being provided everywhere which helps with litter issues seen elsewhere.
Warning: The road grade to the lake is 17% (yes, really). Do not attempt if your vehicle does not have adequate power. Reviews on freecampsites.net mentioned one vehicle over-heating. And remember, what goes up must come down (which is actually worse on this hill in my mind since it is pretty curvy, and gravel, with washboards).
Grassy Lake Road, Yellowstone/ Grand Teton NP, Wyoming
I stayed at this site in 2012 and 2015 with my truck but almost all sites were RV-friendly. Grassy Lake Road is just west of the John D Rockefeller Jr Memorial Parkway, a short section of non-National Park national forest between Yellowstone and Grand Teton National Parks. The proximity to both parks made this an ideal camping location if you don't mind driving a little. I can't speak to the cell phone coverage in the area as it has been a while but the remoteness and being surrounded by beautiful trees and meadows are well worth the stay. Both sites I stayed in had on-site pit toilets that were clean and had nice picnic tables. Wildlife was also common and I saw a pine marten in one location.
---
So these are the six places that stick in my mind that would be great for the majority of RVs, trucks, vans and occasionally tents. There are many other campsites out there that I stayed at but I either can't remember the exact location or they are only suitable for trucks/vans.